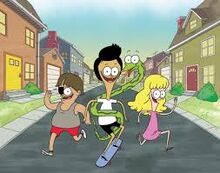 Sanjay and Craig is an American animated television series produced by Nickelodeon. The show premiered on May 25, 2013.[1][2] The series has been renewed for a second season which aired on July 19, 2014 [3] and a third season that is that aired since September 7, 2015. The series offically ended on July 29, 2016 but reruns were still running until April 5, 2017
The show's creators are Jim Dirschberger, Andreas Trolf, and Jay Howell, who is also the character designer on Bob Burgers.[4] Sanjay and Craig is being produced by Will McRobb and Chris Viscardi,[5] the creators of The Adventures of Pete & Pete.
Synopsis
The show follows the antics of the title characters, a 12-year-old Indian American [6] human boy named Sanjay Patel, and his best friend, a talking snake named Craig. On a promotional webpage for the show, the network explains that Sanjay and Craig's suburban hijinks require that "nobody finds out that Craig can talk".[7]
Development
Jay Howell said that the idea began with a comic he and Dirschberger had made about a man who was a snake charmer. Dirschberger then changed the snake charmer character to a 12-year-old boy "without a weird quirk or affectation." Howell said that the show's inclusion of grossout humor was based on the fact that both he and Jim Dirschberger have mothers who are nurses, "and they've told us a lot of gross stories over the years". Since none of the three creators had produced a show before, Nickelodeon chose Will McRobb and Chris Viscardi, the creators of The Adventures of Pete & Pete as executive producers. Howell said that McRobb's and Viscardi's experience on that show helped them add "surreal kids stuff" to Sanjay and Craig. Unlike most animated shows, Sanjay and Craig does not rely on scripting. Instead, the writers make an outline, which is then converted to a storyboard.
Main Voice Cast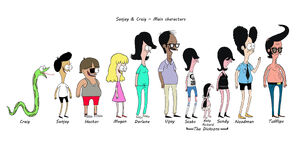 List of Episodes
Main article: List of Sanjay and Craig episodes
Season
Episodes
Original air date (U.S.A.) dates)
Season premiere
Season finale
1
20[1]
May 25, 2013
July 12, 2014
2
20
July 19, 2014
October 9, 2015
3
20
September 7, 2015
July 29, 2016
Characters
Main Article: List of Sanjay and Craig characters
Merchandise
The initial success of Sanjay and Craig led Nickelodeon to release merchandise relating to the series, including selected episodes that appeared on DVD compilations and a season set of its own, graphic novels, and clothing.
Broadcasters
Other than Nickelodeon, Sanjay and Craig also airs reruns on other non-American channels.
References