Sanjay and Craig, Season 1
Series:
Sanjay and Craig
Original run:
May 25 2013 – July 12, 2014
Production Information
Production studio:
 
Forest City Rockers and Nickelodeon Animation Studio
No. of episodes:
 
20
Season chronology
← Previous Season
N/A
Next Season →
Season 2
The first season of Sanjay and Craig premiered on Saturday, May 25, 2013 with the episode, "Brett Venom MD" and "Laugh Quake".
Cast and crew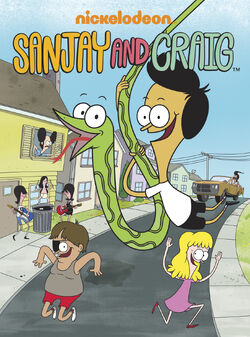 Main Cast
Additional Cast
Character debuts
This season introduced a large amount of characters which would be re-used as recurring characters in later seasons.
Sanjay Patel
Craig Slithers
Megan Sparkles
Hector Flanagan
Mr. Noodman
Remington Tufflips
Sandy
Scabs
Baby Richard
Darlene Patel
Vijay Patel
Belle Pepper
Penny Pepper
Lady Butterscotch
Chicken Chuck
Tyson
The Real Maximum Dennis
Barfy
PMA Guy
Farmer Larry
Huggle Bunny
Mrs. Dickson
Mrs. Sparkles
Hector's Grandmother
Mr. Flanagan
Mrs. Flanagan
Raska Boosh
Noodman's Father
Noodman's Grandfather
Ronnie Slithers
Season overview
Number of episodes
Season premiere
Season finale
DVD releases
20 (39 segments)
May 25, 2013
July 12, 2014
Nickelodeon Heroes in Action! (July 8, 2014; Region 1)[1]
Nickelodeon Robot Invasion (July 8, 2014; Region 1)[2]
The Complete First Season (July 17, 2015; all regions)[3]
Episodes
#
Title card
Title
Airdate
Prod. no.
1a
Brett Venom MD
May 25, 2013
SJC103a
Sanjay and Craig, upon hearing that their mother is about to help in a "butt transplant", try to sneak into the hospital to view it. They disguise themselves as doctors and discover that the patient is their neighbor, Mr. Noodman, who is terrified of Craig and causes panic throughout the hospital before Sanjay's mother successfully completes the surgery.
1b
Laugh Quake
May 25, 2013
SJC103b
Sanjay and Craig both find their laughs are annoying, so they go to a comedy club in an attempt to find a more pleasing laugh. After they are thrown out, a bird defecates on them both, causing them to start a chain reaction of laughter throughout the whole town.
2a
Maximum Dennis
June 1, 2013
SJC104a
The boys disguise themselves at the Frycade, where they intend to defend their video-game records. But Craig takes it to far.
2b
Dog Wave
June 1, 2013
SJC104b
The boys want a dog, but they somehow wind up with 100 dogs. But when Mr. Noodman calls the pound it is up to them to rescue them.
3a
Heightmare
June 8, 2013
SJC107a
Sanjay is finally tall enough to ride the, what he believes to be, scariest ride at the carnival, but he may not be able to go through with it...
3b
Be Like Tufflips
June 8,2013
SJC107b
Sanjay is mistaken for his hero when he dresses up as Remington Tufflips, but Sanjay gets all of his advantages of being him.
4a
Stinkboy
June 22, 2013
SJC101b
Sanjay runs away to live in the sewer when Craig can't handle his stench.
4b
Wolfie
June 22, 2013
SJC105a
Hector's sudden fascination with wolves gets on Sanjay and Craig's nerves, but when they send him to the forest they worry a real wolf can eat him.
5a
Traffical Island
June 29, 2013
SJC102a
Sanjay strands his pals on a highway median, and everyone gets upset during the expierience.
5b
Partybot
June 29, 2013
SJC108b
The guys become party boys when they hang out with an old robot invented by Vijay, but chaos ensues when the Partybot goes insane.
6a

The Giving G
July 13, 2013
SJC101a
A discovery at the junkyard causes trouble in the neighborhood.
6b

Release the Craigan
July 13, 2013
SJC105b
Craig steals Megan's identity and becomes a pageant queen.
7a

Muscle C.O.P.S.
September 14, 2013
SJC109a
Sanjay and Craig suddenly gain large muscles and join the Muscle C.O.P.S. police force.
7b

Cold Hard Cash
September 14, 2013
SJC109b
During a snowstorm Sanjay and Craig find a $100 bill, and Baby Richard Dickson wants to have it.
8a

Unbarfable
September 21, 2013
SJC108a
Hector in has never vomited in his life, so Sanjay and Craig try to make him do it.
8b

Game On
September 21, 2013
SJC111b
Tufflips Thumbs-Up Karate, Sanjay and Craig's favorite game, has gone missing!
9a

Laked Nake
October 5, 2013
SJC110a
While at the lake, Sanjay loses his bathing suit.
9b

Doom Baby
October 5, 2013
SJC110b
Sanjay and Craig babysit Baby Richard Dickson, who then wanders into Mr. Noodman's house.
10a

Family Re-Noodman
October 19, 2013
SJC111a
In order to get wings at Mr. Noodman's family reunion, Sanjay and Craig disguise themselves as his relatives.
10b

Blackout
October 19, 2013
SJC112a
During a blackout, everyone in town wants to use Sanjay's electric generator intended for his mom.
11a

Fart Baby
November 2, 2013
SJC106a
Sanjay has a fart inside of his stomach and tries to raise it as a "baby."
11b

Kung-Fu Catapult
November 2, 2013
SJC102b
Sanjay and Craig attempt to rid Tufflips' trailer of ghosts to obtain a catapult.
12a

Road Pizza
November 16, 2013
SJC106b
Craig gets possessed by a pizza demon.
12b

Trouble Dare
November 16, 2013
SJC112b
After accidentally infesting the house with ants, Sanjay and his family stay at a trailer. They later find themselves at a game show.
13a

You're in Trouble
December 7, 2013
SJC113a
While attending camp, Sanjay and Craig won't drink anything to prevent wetting the bed.
13b

Cup O'Universe
December 7, 2013
SJC115b
Sanjay, Craig, Megan, and Hector discover a universe inside a cup.
14a

Booger Johnson
February 22, 2014
SJC113b
Sanjay takes care of Megan's pet gerbil, but Craig has a huge appetite towards him.
14b

Dream Rangers
February 22, 2014
SJC116a
Sanjay and Craig go inside a dream to save Belle Pepper.
15a

Prickerbeast
March 1, 2014
SJC114a
The kids seek revenge upon learning that the legend of the Prickerbeast was a lie.
15b

Day of the Snake
March 1, 2014
SJC116b
Craig shows Sanjay what he does while Sanjay is in school.
16a

Kerplunk'd
March 8, 2014
SJC117b
Sanjay and Craig found themselves in a prank war.
16b

Old Farts
March 8, 2014
SJC115a
After learning that seniors get free wings at the Frycade, Sanjay and Craig disguise themselves as seniors.
17a

Flip Flopas
March 15, 2014
SJC114b
Hector shares Flip Flopas, a candy that makes bad things taste good and good things taste bad, with the gang.
17b

Chill Bill
March 15, 2014
SJC118a
At the junkyard, Sanjay and Craig discover an underground convenience store inhabited by a bass player known as Chill Bill. Then Craig spends more time with Chill Bill, which puts a strain on his friendship with Sanjay.
18a

Curb Dawgz
March 22, 2014
SJC117a
Sanjay, Craig, and Hector form a skateboarding crew.
18b

Susan Loogie
March 22, 2014
SJC118b
Megan disguises herself as a tomboy, "Susan Loogie," to enter a dance competition with Sanjay.
19

A Tail of Two Slithers
May 16, 2014
SJC120
Craig's long lost brother uses devious methods to try to turn Sanjay and Craig against each other.
20a

Boatin' Down the River
July 12, 2014
SJC201a
The kids build a homemade raft to rescue mysterious castaways.
20b

Pretty in Punk
July 12, 2014
SJC119a
The Dicksons become a pop band, and it's Sanjay and Craig's fault.

Note: This episode aired in Greece on June 8, 2014.
Read More
References